2023 Update: Johnny's Seafood Market & Bistro is now the The Fish Peddler Restaurant and Steamers Seafood Cafe has permanently closed =(
Johnny's Seafood Co. has reopened as Johnny's Seafood Market & Bistro after a top to bottom remodel that now features a cafe in addition to their longstanding seafood counter. Diners can sit at the bar, inside near the seafood counter or on the outdoor patio on the Thea Foss Waterway. There's even a great view of Mt. Rainier.
Tacoma has needed another casual waterfront seafood restaurant, and I was eager to check it out. There's Steamers Seafood Cafe on Titlow Beach, but I've never found the quality or portion size to be good for the price.
We stopped at Johnny's for dinner tonight, and I wasn't really planning on blogging about it, so I didn't take any photos of our food…and I'm not seeing the menu anywhere online at the moment, but the food was generally really good, so I thought I'd share our experience.
It's a little awkward walking into Johnny's because the seafood counter is to your right, and the tables are to the left — which isn't really the problem. I know they just reopened, but while watching numerous people come in and try to purchase seafood at the counter, there was a lot of confusion with the process, and there wasn't always a staff person to help people at the seafood counter. Once they get the hang of it, hopefully it'll go more smoothly. The staff was very friendly and the food was served very quickly after ordering, but the seating and general entrance was a little odd.
We ordered the bay shrimp cocktail ($5.95), and though the shrimp were fresh and sweet, the plating (in a little cup, topped with sauce atop a salad of lettuce and celery), was a little different than I'm used to.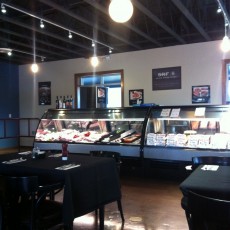 The Caesar salad ($8.95) has lightly grilled romaine with options such as adding crab, shrimp or blackened salmon or chicken for an additional reasonable fee. The blackened salmon was high-quality, well cooked and flavored with a nice kick from the blackening spice, and the crab was fresh and plentiful atop the salad.
We'll definitely be back for either a quick lunch or easy dinner. The menu features favorites like clam chowder, fish and chips (including gluten free fish and chips!), Copper River salmon, prime ribeye steak, lots of sandwiches, cioppino, salads, fish tacos, crab and shrimp cocktail, beer and wine.
I also glanced at the seafood counter and noticed they had fresh whole trout, which I haven't seen anywhere else in Tacoma. In addition to seafood, they also sell beef and pork from Snake River Farms.
The prices were generally reasonable and it seemed like it would be family-friendly. It's definitely worth checking out.
Johnny's Seafood Market & Bistro | 1199 Dock Street, Tacoma | 253.627.2158
Open 11:00 a.m. – 8:00 p.m. daily