Last weekend, my husband and I found ourselves downtown Sumner in the early a.m.  I was there checking out Ciarrai Jeanne Confections for a post in the Weekly Volcano. We were a little early, so a quick walk down the street took us to Berryland Cafe, a little mom and pop, small town eatery.
On a Saturday morning, it was packed with hungry patrons. I ordered corned beef hash ($8.39), and my husband had a breakfast sandwich with hashbrowns ($7.89). The food was pretty standard diner fare, with a couple of exceptions.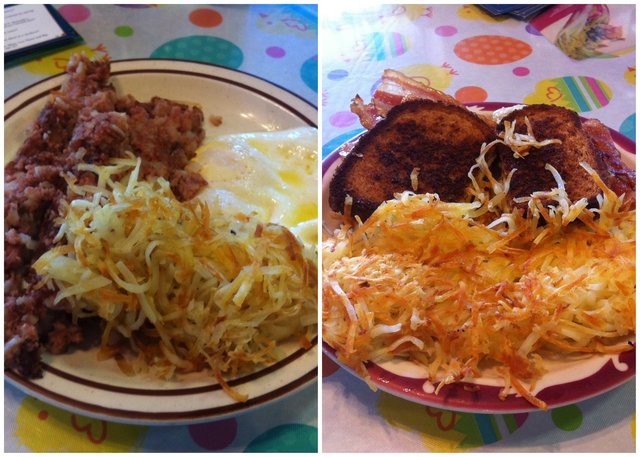 Berryland Cafe has two specialties: Pies of all sorts and homemade freezer jams you can buy by the jar.
In honor of upcoming Pi[e] Day, which happens to be today, we had to order some pie. Casey had the chocolate cream, and I ordered my favorite, lemon meringue. The homemade slices ($2.99) were sky-high and pretty tasty. I was a little disappointed my lemon meringue didn't have the requisite browned meringue peaks (the best part), but all in all, they were solid slices of pie. Stop in and try one of their many pie flavors: marionberry, chocolate cream, coconut cream, lemon meringue, apple, strawberry rhubarb or banana cream.
I was pleasantly pleased with the jar of marionberry freezer jam ($4.19) we took home. They also sell rhubarb, blackberry, raspberry and strawberry jams.
You can't go too wrong with a hometown place that serves breakfast and pie all day. If you're in the mood for lunch or dinner, they also have burgers, sandwiches and salads.
Berryland Cafe, 1101 Main Street, Sumner. 253-863-4567. Mon.-Sat. 6:30 a.m.-5 p.m.