After the success of The Moveable Feast, Tacoma's inaugural food festival, the organizers put together D.I.N.E., a smaller and adult-only version of the event, which was held last night, September 8.
$10 got you in, and there were live bands, beer and, of course, food trucks. The event was held at Cheney Stadium's infield, which was probably my favorite part. It's not every day you get to eat and enjoy music on a baseball field.
Trucks in attendance were Burrito Boy, Celebrity Cake Studio, Choripan, Lumpia World and Maximus/Minimus. Where Ya at Matt was supposed to be there, but they didn't make it.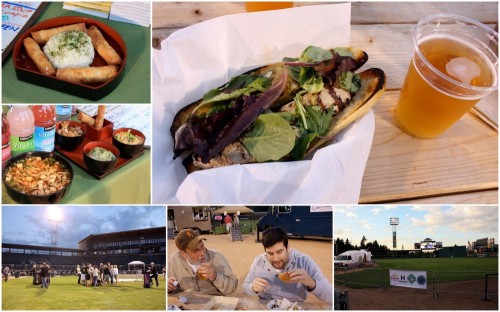 It was a cool but clear night, and D.I.N.E. was not as well-attended as The Moveable Feast. This was probably due to a few reasons, including the entry fee, being 21+, and the fact that the Puyallup Fair has started.
I brought my family, and we had our first experience with Lumpia World. We first started with a lunch plate that included lumpia, chicken adobo and pancit. I was really impressed with the flavors of everything. After 2 more trips to the counter to order more lumpia and their soba soup, I'd say we were addicted. No lumpia was left unturned.