Tacoma's own Chef Hudson Slater of Maxwell's Speakeasy and Lounge won first place in last weekend's Ethan Stowell Fried Chicken Cook-Off for charity. Ethan Stowell Restaurants, which include Staple & Fancy, Tavolata and How to Cook a Wolf, just to name a few, held the charity cook-offs to benefit Fetal Hope Foundation.
Ten chefs competed, including Josh Henderson from the Huxley Wallace Collective; Ryan Donaldson, chef at The Stone House; Tricia Marino from Stoneburner; Tobie Robinson from Parsnips Catering; Dan Braun from Oliver's Twist, Paul Rosquita from Taste at SAM, as well as Ethan Stowell himself. Four home cooks also competed, including Joe Jeannot, Rocky Yeh, Luuvu Hoang and Cameo McRoberts.
Attendees of the event voted for their favorite fried chicken entries.
Chef Slater won with chicken that he brined in a smokey brine for a day, then in buttermilk, maple syrup and hot sauce, which were then dredged in seasoned flour and fried.
"It was a great day with a lot of cool chefs," said Chef Slater.  "We were drinking beer and bourbon, eating chicken and talking smack. It was a lot of fun."
To see what sets Chef Slater's fried chicken apart, get to Maxwell's early each Monday. You can order his winning fried chicken first come, first serve. It will be offered for as long as there's demand.
Chef Slater is hoping to get involved in the next cook-off, which is slated to be macaroni and cheese, though so far there is no firm date yet set for this event.
"There was talk of mac and cheese so I would be pretty stoked for that, considering we have the best mac and cheese in town," said Slater.
Tickets will be available to the public, so check the Ethan Stowell blog for more details.
If you can't attend the Ethan Stowell Cook-Offs, make sure to check out all the amazing food Chef Slater and Maxwell's is putting out right here in Tacoma on a daily basis.
Update: Maxwell's has started serving the fried chicken on Mondays, and it's a hit! Check out the photo below. Looks amazing.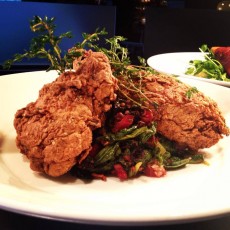 Photos courtesy Chef Hudson Slater