I thought I'd do a little re-blog of this post I did a few years ago on my cooking blog, A Big Mouthful, about Duris Farm in Puyallup and their amazing refrigerator dill pickle recipe.
Duris is now open for the summer — and it's the perfect place to get all your pickling supplies! If you've never pickled before, don't worry. It's actually super easy with their recipe (below), and you can pick up everything you need as a one-stop-shop at their stand.
They also have other vegetables and their own canned and pickled items for sale.
Over the years, this has become my go-to pickle recipe. Give it a try!
Re-blogged From August 22, 2010:
My curiosity of the homemade pickle drove me to Duris Cucumber Farms in Puyallup, Washington.  This place is an institution in our local community, yet I had never been there.  It's a crying shame that I have never roamed this straw-floored paradise before.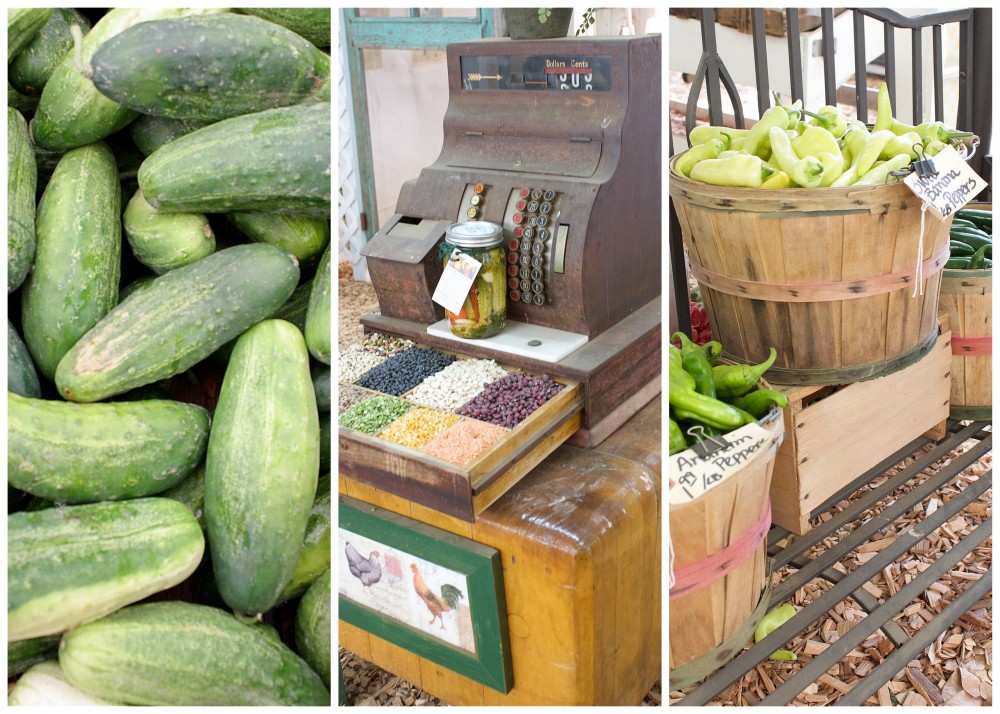 I was instantly impressed by the organization, selection and well…cuteness of Duris.
I had no recipe and no real idea of what I was doing there or what I needed.  As I nervously placed some fine-looking beets in a bag, I reminded myself to focus and set out to look around.
Duris claims to be your source for EVERYTHING you need to pickle.  And this is no joke.  They have everything you need — from jars, ingredients and a variety of canning supplies.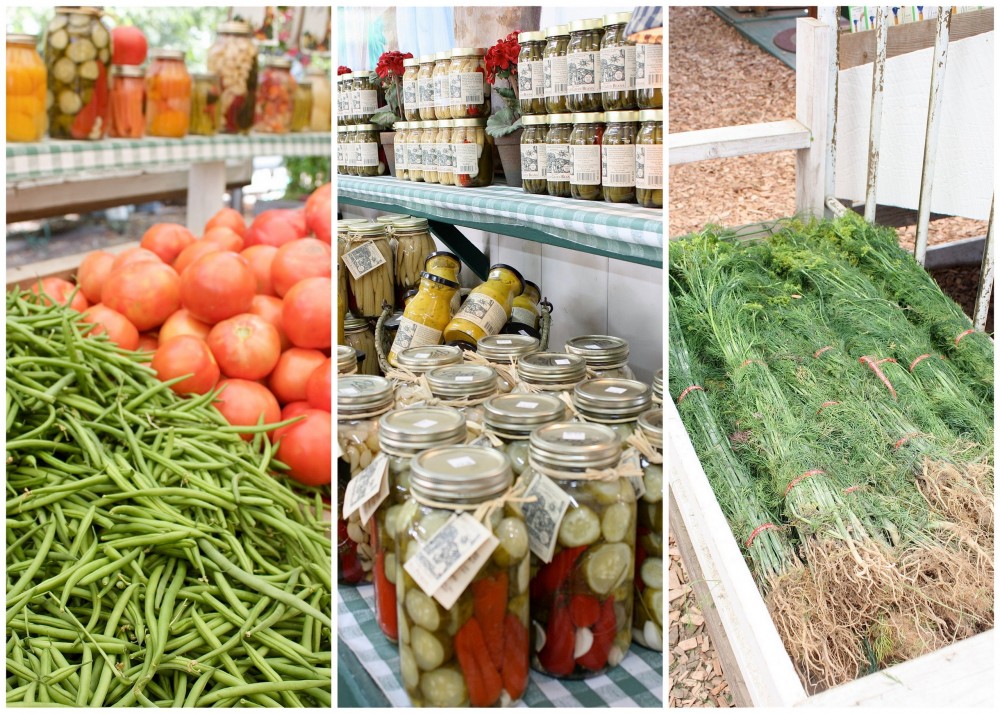 In fact, they even have their own recipe.
Thank god for this recipe.
As I circled the stand for a fourth time, I finally got the courage to ask a salesgirl for help.  Sensing my desperation, she gave me the recipe for their Cold-Packed Refrigerator Dills.
"For someone new to canning", she told me.
Yes, yes, I'm new to canning!  That's me.
She saw right through me.
I was so relieved to see this recipe, with step-by-step, uncomplicated instructions.
She proceeded to tell me that there is a way to pickle without using a canning water bath — by simply adding the ingredients and storing in the fridge for at least a month.
I swear, she was an angel.  It was 100 degrees and my apartment was an inferno.  No heating, cooking — nothing.  Just some prep and assembly.
When she took me around to gather all the ingredients, I had some hard-hitting questions about the reasons for certain parts of the recipe.
If you're curious, the addition of a grape leaf helps to crisp the pickles.  Nobody likes a smooshy pickle.  Am I right?  Am I right?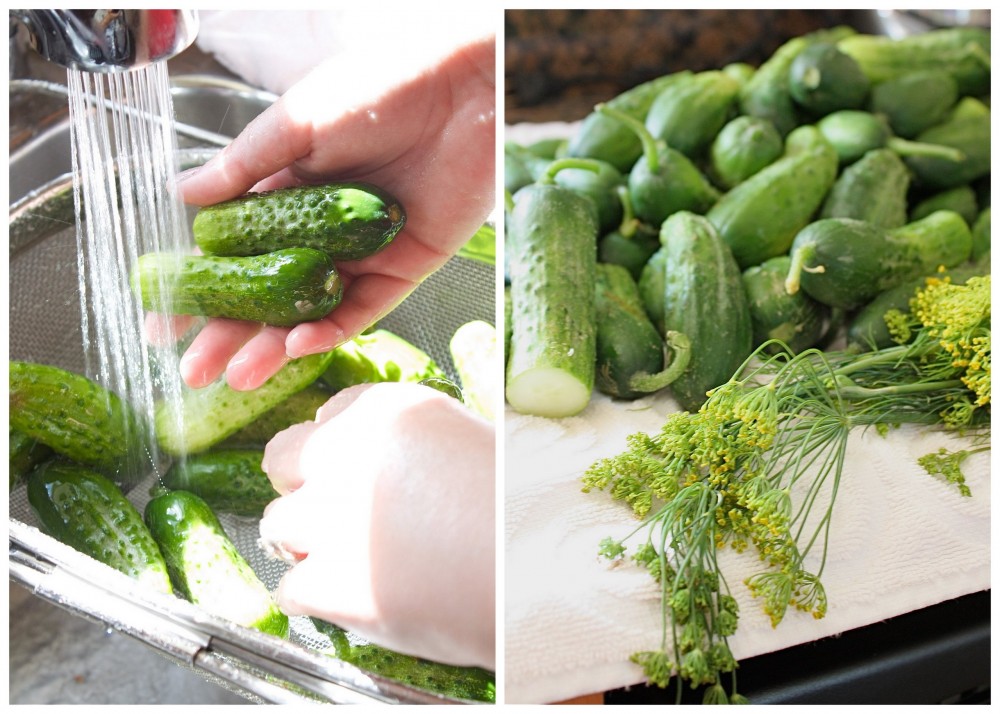 Also, the trimming off of the blossom end of the cucumber is necessary "because it won't work right".  Okay, so maybe that's not the best explanation, but I'm not messing with a tried and true method.  The blossom end is usually the lighter colored end, and the end that doesn't have the stem growing out of it.
I can't tell you how they taste because they've still got three to four weeks of time to serve in the fridge.  But from what I heard from other customers at the farm stand, they love this recipe and think it tastes even better than the traditional pickling method.
I'll update mid-September with a taste-test.  So far, so good.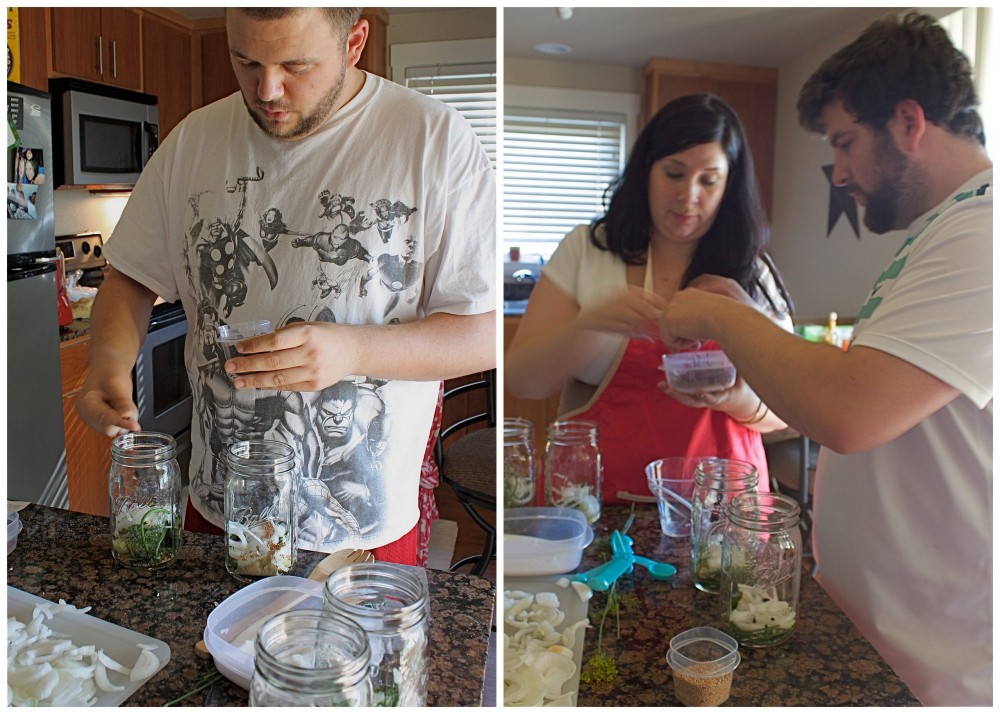 UPDATE: I just opened my first jar of pickles.  Okay, yeah, I opened them a week early, but I was making a tuna fish sandwich and pickles are a prerequisite with those.  Remember that.  Anyhow, they are incredible.  Super crunchy, great herby flavor that puckers your mouth just so.  They have a little kick from the peppers, but not too much.
What can I say, I'm impressed with myself.  Oh, and Duris' wonderful recipe.
Duris Cold-Pack Refrigerator Dills

To each (clean and sanitized) quart jar, add in order:

1 grape leaf
1 stalk fresh dill wound in a small circle
3 peeled cloves of garlic
1/8th (sliced) white onion
3 teaspoons of pickling salt
2 teaspoons of mustard seed
15 whole black peppercorns
½ to 1 dried hot red chili pepper
¼ teaspoon of alum
¼ fresh jalapeno pepper, sliced
1 slice of sweet red bell pepper (place on jar wall)
5 medium cucumbers, blossom end removed
2-3 small cucumbers, blossom end removed
½ cup of 5% apple cider vinegar
Fill jar w/tap water to within ½ inch of top
Screw on a new lid
Shake well to dissolve powders
Store in refrigerator
Pickles will be ready to eat and enjoy in 3 -4 weeks
Enhanced flavor is achieved by allowing them to cure in the refrigerator longer.
Duris Cucumber Farm is open from 9 a.m. to 6 p.m. from the end of July through September.  {6012 44th St E Puyallup, WA 98371}