Today I had the pleasure of attending the inaugural Moveable Feast at Cheney Stadium.
The gathering of over 30 food trucks in Tacoma was organized by the incredible Alyson Jones of the Tacoma Rainiers. Thank you, Alyson and the Rainiers for bringing such a great event to Tacoma! The best part? A portion of the proceeds benefit Mary Bridge Children's Hospital.
Tacoma doesn't exactly have a huge food truck culture…yet. Back in 2010, I wrote about some changes that were being made to our local attitude and regulations, as well as the general lack of support and encouragement regarding creating a food truck/cart culture around here. I'm hoping that is something that will change, especially from the throngs of thousands of folks who flocked to today's event.
The early entrance VIP time at 11 a.m. was slow starting, with little to no lines and plenty of room at the tables.
It really started to pick up as soon as the free general admission opened up at noon. I hear it's currently a bit of a zoo.
But don't let that stop you from coming down. The lines move fast, and there's still lots of grub to be had.
I have been looking forward to this for weeks now, plotting out in my head my plan of attack.
After much debate, here's what my husband and I ate:
Here's a round up of most of the trucks/carts in attendance:
Clockwise from top left:
Choripan by Asado, Skillet Street Food, Fusion on the Run, Where Ya at Matt, Maximus Minimus, Contigo, Fleischkuechle, The Box on Wheels, Raney Brothers BBQ, Jerk Station, The Kinetic Kitchen, Jamaican Sensation.
Clockwise from top left:
Lumpia World, Athena's Mediterranean, Curry Now, Burrito Boy, Street Treats, Lucky Devil Doughnuts, Hilltop Ice Pops, Hello, Cupcake, Ice Cream Social, Celebrity Cake Studio, Pampeana Empanadas, Barriga Llena.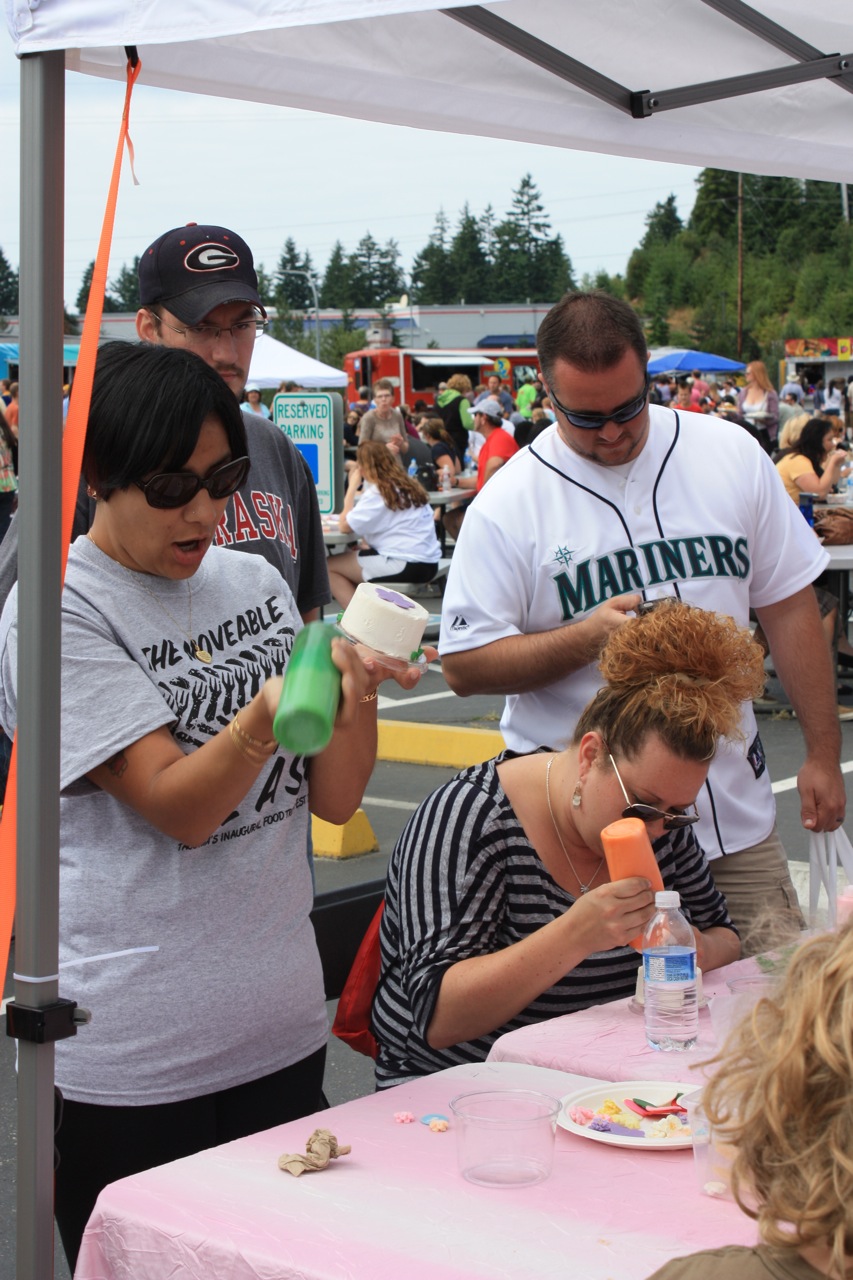 With fun activities for kids and adults such as decorating cupcakes with Celebrity Cake Studio and a beer garden, the day was filled with a great sense of community, the inaugural Moveable Feast was an event that Tacomans really got behind and supported, with good reason. I look forward to next year's event.
If you haven't gone yet today, it's open until 7 p.m.
For me, it's time to go walk off some of those calories.